Some times ago, I've proposed to
Michele
(
"Michigentile's Micro World"
) who is doing a beautiful medieval dio: "The Day of the Tournament" (you can see all the steps on his blog), but he's not accustomed with painting figures (even he has done great improvements in his painting skill !)
The choice was not easy, because we wanted to use only
Valdemar Miniatures
!
They must be in metal, (resin is too breakable for the expedition) and .... I must have them!
I've select a little range of figures which could be appropriate for his project, and finally, Michele have chosen some. I've begun to paint them and I would like to show you how they look. If you have some advices about the colours or anything else, I will be very happy!
(sorry for the bad pictures: impossible to do them in daylight: 38° it's too hot for me!)
Il y a quelques temps

, j'ai

proposé

à

Michele

(
"Michigentile's Micro World"
)

qui fait un

dio

médiévale

:

«

Le

jour du tournoi

"

(

vous pouvez voir

toutes les étapes

sur son blog

),

mais il

n'est pas

habitué

à la peinture

chiffres

(

même s'il

a fait

de grandes améliorations dans

son habileté

peinture

!)


Le choix

n'était pas facile

,

parce que nous voulions

utiliser uniquement

des figurines Valdemar!
Elles

devaient être

en métal

,

(

la résine est trop

cassant

e

pour l'expédition

) et

....

je devais

les avoir

!

J'ai

sélectionné une petite série

qui pouvait être

appropriée pour

son projet

,

et enfin

,

Michele

en a

choisi quelques-unes.

J'ai

commencé à

les peindre

et j'aimerais

vous montrer

à quoi elles ressemblent

.

Si vous avez

quelques conseils sur

les couleurs

ou tout autre chose

,

je serai

très heureux

!


(

désolé pour les

mauvaises photos

:

impossible de les

faire

en plein jour

:

38 °

c'

est trop

chaud pour moi

!)
1-Venture with cow
2-"Plunder" (+1 extra figure) + supplies
3- squires with horses
4- A priest with 2 knights before the tournament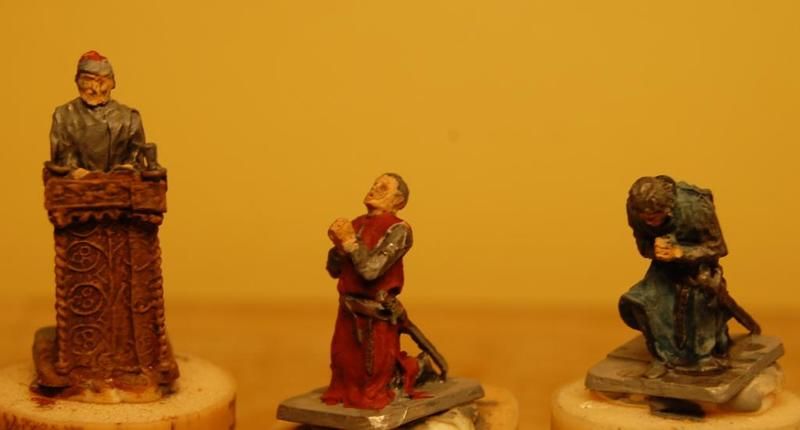 5-Musicians
CLICK ON A PICTURE TO SEE THEM ALL IN A SLIDESHOW
CLIQUEZ
SUR UNE PHOTO POUR
LES VOIR
TOUTES EN
DIAPORAMA