New figures BUM ! I've not painted all the set (for the moment...) because I don't think that I need them very soon. The whole box can be seen here:
"Log-House"
. The sledge was painted before because I've used it for my

Christmas Post.
Nouvelle

s

figurines

BUM

!

Je n'ai pas

peint

tout le set

(

pour le moment ...)

parce que je

ne pense pas en avoir

besoin

très

bientôt.
La
boîte entière
peut être vue ici
:
"Log-House"
. Le traîneau
a été peint
avant
parce que
je l'ai utilisé
pour mon
message
de Noël:
Christmas Post.

For the history of the "Mounties":
Prime Minister Sir John A. Macdonald
John A. Macdonald
first began planning a permanent force to patrol the North-West Territories
after the Dominion of Canada purchased the territory from the Hudson's Bay Company
. Reports from Army officers surveying the territory led to the recommendation that a mounted force of between 100 to 150 mounted riflemen could maintain law and order. The Prime Minister first announced the force as the
North West Mounted Rifles
but concern from the United States of America fearing a military build up led the Prime Minister to rename the force the
North West Mounted Police
(NWMP) when formed in 1873.The force was merged with the Dominion Police in 1920 and was renamed as the "Royal Canadian Mounted Police".
En 1873, la Police Montée du Nord-Ouest(North West Mounted Police) est fondée par Sir John A. Macdonald, premier ministre du Canada . Le nom retenu était plus descriptif de son rôle que le nom de North West Mounted Rifles (Fusiliers montés du Nord-Ouest) suggéré originalement et moins susceptible d'attirer l'antagonisme des amérindiens et du gouvernement américain. La NWMP devait appliquer la loi dans les Territoires du N-O, d'établir des relations amicales avec les Premières Nations (Amérindiens) et d'ouvrir les terres à la colonisation.
Sa création et son déploiement étaient rendus nécessaires par les marchands de whisky américains qui empiétaient sur le territoire canadien, causant des problèmes. Macdonald ordonna alors que la force soit vêtue de rouge, très britannique, pour bien les différencier du bleu des troupes américaines. La NWMP fut organisée comme une unité de cavalerie britannique en régiments et maintient encore certaines de ces traditions aujourd'hui.
Elle fut renommée "Gendarmerie royale du Canada" en 1920.
And now : pictures !!!!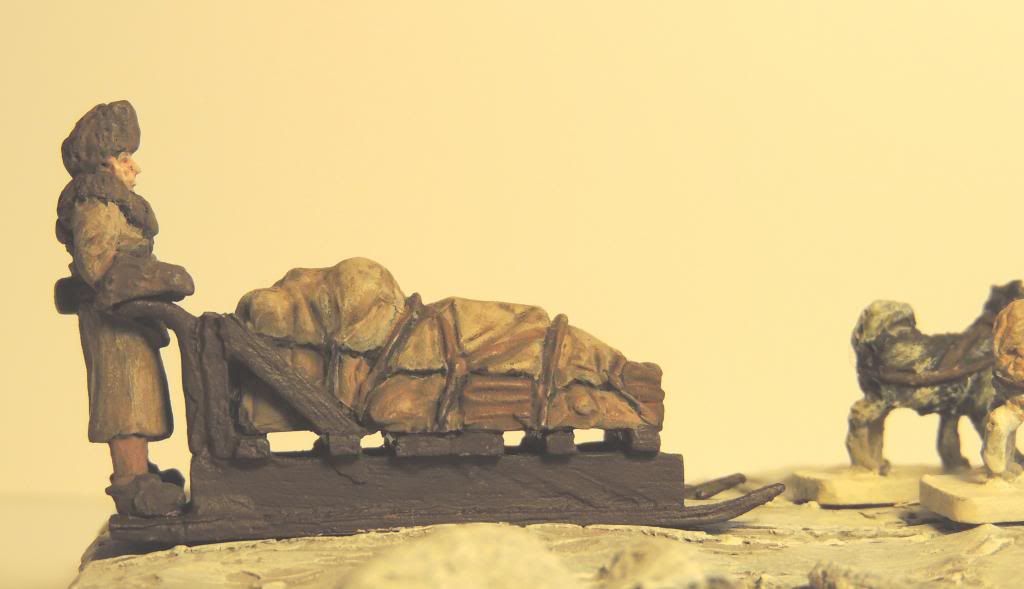 More to come.....

It's difficult to say yet when the Chapter 2 will be published. It seems that the Directory's Team has some problems and difficulties with "Sam's Minis World" who does not work quick enough !
But we know also that our beloved Company encounters a lot of "logistic" problems: all the technical aspects of their work give some delays: they need to find all the figures, accessories, doing the sceneries, conversions ect.... not so easy !
But it's in a good way !
NOUVELLES de
"The Lost New World"!
Il est
difficile de dire quand
le
chapitre 2
sera publié.
Il semble que
l'équipe de
Réalisation
a quelques problèmes et
difficultés avec
"Sam's Minis World"

qui, selon eux, ne travaille pas

assez vite

!


Mais

nous savons aussi que

notre

bien-aimée

Compagnie

rencontre

beaucoup de problèmes

"

logistiques":

tous les aspects techniques

de leur travail

entrainent

un certain retard

:

ils

ont besoin de beaucoup

de temps pour trouver

toutes les figurines

, les accessoires

, fabriquer les décors, faire

des conversions

etc

.

..

pas si facile

!
Mais c'est en bonne voie!